Christie Simons
Partner, Chinese Services Group,
Deloitte & Touche LLP
Christie Simons is a partner in Deloitte's Silicon Valley office and specializes in serving multinational and global technology clients. She has been with Deloitte for 15 years, of which three were spent in its Taiwan and China offices, where she was a partner in the Global IFRS and Offerings Services Group. There, she served several clients headquartered in Taiwan and China with their global capital-raising activities as well as ongoing SEC reporting requirements. By virtue of her global and multifunctional experience, Christie has developed a consultative style to serving her clients to anticipate issues and provide valuable insight and objectivity to accounting matters, as well as responsive and value-added business advice and counsel.
Christie has significant experience with initial and secondary offerings, carve-out transactions, and business combinations. She has worked with companies conducting GAAP conversions from their local GAAP to U.S. GAAP or to IFRS, for purposes of global equity offerings or other transaction-related needs.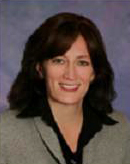 FiRe 2011 Partner