Abhi Ingle
Vice President, Ecosystem and Innovation,
AT&T
Abhi Ingle is in charge of the Ecosystem and Innovation organization at AT&T, whose charter it is to sharpen AT&T's focus on innovation both internally and externally, with an emphasis on speed, agility, and work with external ecosystems such as venture capital firms, startups, and developers. Abhi is responsible for driving innovation at AT&T, incorporating employee ideas from one of the world's largest crowd-sourced employee innovation programs, The Innovation Pipeline (TIP). His organization is also responsible for operating the global network of AT&T Foundries, where a combination of design thinking, open collaboration, and agile development can bring ideas to life rapidly.
Abhi has an MBA with distinction from Harvard Business School and earned his BA with high honors in Computer Science and Mathematics from Oberlin College.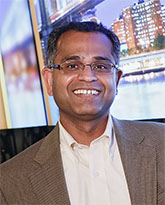 FiRe 2013 Speaker