James Staten
Chief Strategist, Cloud+Enterprise,
Microsoft
James Staten leads portfolio strategy and customer cloud strategy engagement discussions for Microsoft's Cloud+Enterprise division. He has more than 25 years' experience in enterprise technology, working as an industry analyst, CMO, product market lead, journalist, and reseller.
Prior to Microsoft, James was the lead cloud computing analyst for Forrester Research and pioneered the firm's coverage in this area, helping Fortune 500 and global enterprises develop successful cloud strategies. James has held key executive positions at firms including Gartner, Sun Microsystems, and Azul Systems; is a frequent keynote speaker at industry events and conferences; and has lectured at leading business schools. He holds degrees from the Annenberg School at the University of Southern California and the University of North Texas. When not working, James is an avid marathoner and triathlete.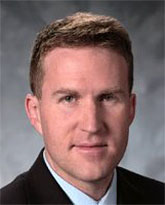 FiRe 2015 Speaker