Bryan William Jones
Retinal Neuroscientist and Principal Investigator / Director,
Marclab for Connectomics, University of Utah
Dr. Bryan William Jones is a retinal neuroscientist and principal investigator / director of the Marclab for Connectomics. He is an associate professor at the Moran Eye Center and holds faculty appointments in Ophthalmology and Visual Neurosciences and in the Neuroscience Program. His research interests involve retinal neural circuitry, connectomics, and disorders of neural circuitry. Specifically, his laboratory explores the circuitry of the retina and how retinal degenerative diseases like retinitis pigmentosa (RP) and age-related macular degeneration (AMD) affect the intrinsic retinal circuitry, including the implications for rescue of vision via gene therapy, and retinal bionic or biological implants. Other research efforts involve exploring metabolomics for application in understanding physiology, cancer, and medicine.
Bryan is also a photographer whose work has been published or discussed in NPR's Science Friday, National Geographic, The Smithsonian, Wired, Popular Science, Popular Mechanics, Science, the Washington Post, MSNBC, io9, Mother Nature Network, the Guardian UK, CNET, the Huffington Post, NewScientist, the Washington Times, Defense Technology International, Boing-Boing.net, War Is Boring, the Washington Independent, the NIH Director's Blog, World Politics Review, Combat Aircraft, Mental Floss magazine, USA Today, Warships International, and others.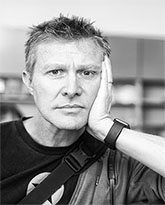 FiRe 2017 Speaker