DeAunne Denmark
Precision Medicine & Research ,
Open Medicine Institute
DeAunne Denmark, MD, PhD completed the Medical Scientist Training Program in neuroscience and behavioral genetics at OHSU. Her work was supported by an NIH fellowship and focused on understanding genetic vulnerability to complex neuropsychiatric disease through early precision medicine systems approaches including behavioral genomics, global protein biochemistry analyses, and network bioinformatics. In 2012, she became severely ill after traveling abroad and has since been learning about precision medicine as a patient with undiagnosed disease, in addition to through a clinician-scientist lens. Now led by Open Medicine Institute in collaboration with the UnDx Consortium, Metabolon, and UCSD, her case serves as a working model for how multiple -omics technologies can be integrated and directly applied in the clinic for precision diagnosis and treatment of individuals with medically mysterious illness.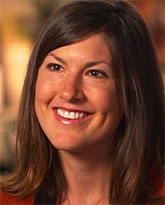 FiRe 2017 Speaker