James Redford
Documentary Filmmaker,
Redford Center, KPJR films
James Redford writes, produces and directs for film and television. Prior to completing "HAPPENING: A Clean Energy Revolution" for HBO, James' other HBO films include "TOXIC HOT SEAT", "THE BIG PICTURE: Rethinking Dyslexia", "MANN V. FORD", and "THE KINDNESS OF STRANGERS". While completing "HAPPENING", James has been traveling the world as an American Film Showcase ambassador with his two award-winning documentary films. "RESILIENCE: the Biology of Stress and the Science of Hope" as well as "PAPER TIGERS".
James is the co-founder and chair of The Redford Center, a non-profit media entity that engages people though inspiring stories that galvanize environmental action. Among many of its functions, the center's documentary film projects include "WATERSHED", "FIGHTING GOLIATH", and "THE ART OF ACTIVISM". James lives in Marin County, California. His interests include playing lead guitar for Olive and the Dirty Martinis as well as yoga, skiing, surfing and cycling.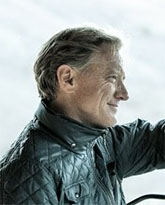 FiRe 2018 Speaker