Shalev Lifshitz
AI Researcher and Entrepreneur,
University of Waterloo, SickKids Hospital, and St. Joseph's Health Centre
Shalev Lifshitz is 16 years old, Canadian, and striving to develop the future of technology. He is one of the world's youngest AI researchers and entrepreneurs. He has spoken at various conferences, inspiring many to explore and think about the future of AI, as well as what questions we need to ask in order to be prepared for human-level artificial intelligence.
Shalev is conducting research at the University of Waterloo to further the community's efforts toward reaching Artificial General Intelligence and is developing new Artificial Neural Networks that aim to behave more like the human brain. In addition, Shalev is working to create solutions for some of Canada's top hospitals. He is working at SickKids Hospital in Toronto creating a computer vision system to expedite diagnostic and drug discovery processes and is also working with St. Joseph's Health Centre, where he created a remote system that will assist stay-at-home patients and caregivers while enabling remote metric gathering to allow for better care. His goal is to spark the next wave of human innovation and help humanity reach a new evolutionary step.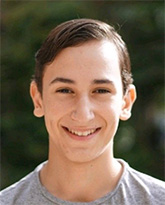 FiRe 2019 Speaker