Ali Douraghy
Chief Strategy Officer, Earth & Environmental Sciences,
Lawrence Berkeley National Laboratory
Ali Douraghy designs team science strategies aimed at solving global challenges affecting society and the planet. He is currently chief strategy officer for the Earth & Environmental Sciences Area, a multi-disciplinary group of 500 scientists at Lawrence Berkeley National Lab working to translate scientific discoveries into breakthrough solutions for energy and the environment.
Previously, Ali served as USAID's director of Science & Technology at the US Embassy, Jakarta, where he established the agency's first country strategy for science cooperation. He leads the New Voices project at the National Academies of Sciences, Engineering, and Medicine, focused on bringing the views of early-career leaders to critical policy dialogues. Ali received his PhD in Biomedical Physics from the UCLA School of Medicine and BS in Bioengineering from UC San Diego.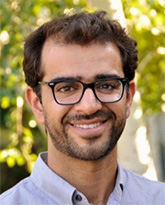 FiRe 2019 Speaker